Advertiser Disclosure: The Bulkhead Seat earns an affiliate commission for anyone approved through the links below. This compensation may impact how and where links appear on this site. We work to provide the best publicly available offers to our readers. We frequently update them, but this site does not include all available offers.
Hoboken was my home for many years with Newark Liberty International (EWR) as my nearest airport and most frequent departure point (going back to the Continental days). The airport offers four United Clubs℠ (near gates A2, C74, C93, and a brand new one at C123). This new lounge is visually stunning and hopefully a showcase for what future renovations will look like across the system.
Access
Access is granted for those with United Club℠ memberships, day passes from Chase co-branded credit cards or purchased for $59 (although there was a sign saying they were not being accepted while I was there), Global Services® members, United passengers with Gold or higher status traveling internationally, international business or first-class passengers traveling on a Star Alliance flight, and Star Alliance Gold members regardless of class flown. You can find more information about these lounges and their access rules here. I love that this lounge uses automated gates for entry, but they have had some issues every time I have been here.
Anthony's Take: When flying United domestically, I always make a point to stop by the United Clubs℠ to get some work done, relax, and have a snack or drink. The lounge near gate C123 is packed with amenities including a great food selection, bar, coffee bar, showers, and restrooms. It can get extremely crowded during peak times, but this lounge is huge at nearly 30,000 square feet with almost 500 seats.
This lounge offers a host of amenities not found at other United Clubs℠ (most notably the shower suites and coffee bar).
Bar
A long bar is situated in the middle of the lounge. It's a big space with lots of seats. There is a variety of paid and complimentary beer, wine, and spirits here. The free offerings are pretty basic, but the paid selections are not badly priced.
One unique feature is the coffee bar in the front corner. Here, you can order any type of espresso drink. This is a nice addition and makes the lounge feel more premium. The barista stepped away for a moment when I snapped this picture.
Food
The food in the United Clubs℠ has improved in the past few years and is even better than it was pre-Covid. This lounge raises that bar even higher. There are multiple areas with snacks and drinks as well as one huge, L-shaped buffet. This area has everything from sandwiches to soups to salads and a few hot entrees, plus cookies and other desserts. I love some of the little touches in this lounge (like the subway tiles above).
Sandwich options and fresh fruit
Closer view of the sandwiches
Minestrone and Chicken Noodle Soup
Salad ingredients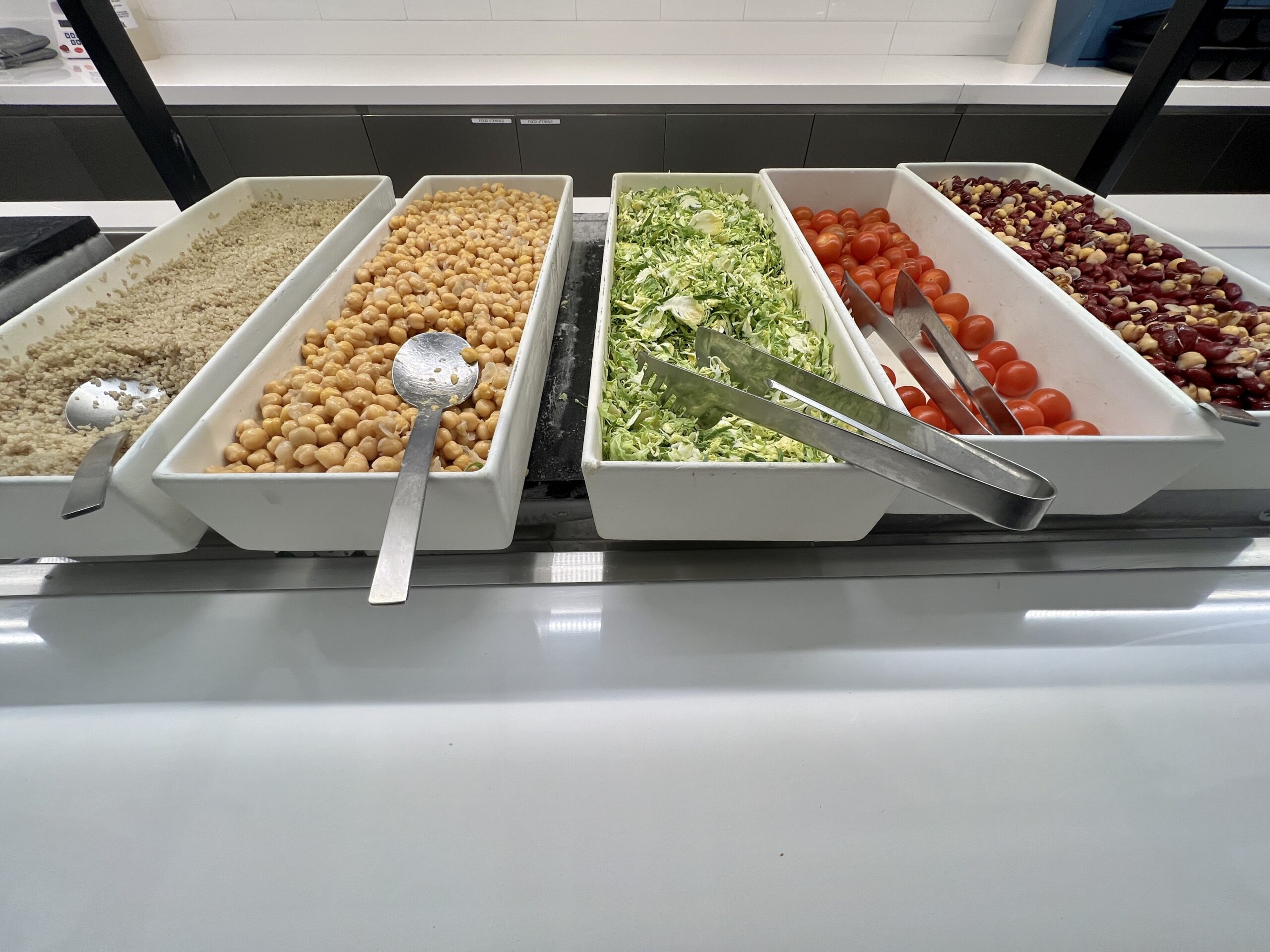 More salad choices
Disco Tots, chicken, and pasta
Grains, rice, and butternut squash
A small charcuterie board
Coffee cake
Oatmeal raisin cookies
Aside from the main buffet, there are two areas near the front of the lounge with snacks, coffee, and drinks.
Another area with coffee and snacks.
Illy coffee machines can be found in two places (in addition to the coffee bar).
There are several Coke Freestyle machines around the lounge. My only complaint: I wish these had ginger ale.
Seating & Decor
As mentioned, this is a big lounge with lots of seats. However, it was packed. Almost every spot was taken. The staff were cleaning areas quickly to accommodate, but there were more people than open seats.
This lounge has tables, booths, phone booths, couches, and more. United put some thought into the variety of options.
Amenities
This United Club℠ offers free Wi-Fi, restrooms, shower suites, and the food and beverages mentioned above. I'm hopeful that United continues to make other lounges as gorgeous as this one. I tried four times to get a picture of a shower suite, but they were all occupied and the attendant said that they do not have a waiting list (it's all first come, first served). The space pictured above is a small seating area outside of the shower suites (presumably for waiting since there is no list). From pictures I've seen they look similar to those in the Polaris® lounges.
There is a desk to help with passenger issues and rebooking. I should also mention that the service in this lounge is amazing. The staff manning the desks and those cleaning tables could not be friendlier or more helpful. You don't feel like you're in Newark (EWR), which is notorious for its poor customer service.
Overall Impression:
The United Club℠ near gate C123 is gorgeous and huge. I love the buffet, coffee bar, that is has showers, and is a huge step up from other lounges that United operates.
User Generated Content Disclosure: The Bulkhead Seat encourages constructive discussions, comments, and questions. Responses are not provided by or commissioned by any bank advertisers. These responses have not been reviewed, approved, or endorsed by the bank advertiser. It is not the responsibility of the bank advertiser to respond to comments.