Advertiser Disclosure: The Bulkhead Seat earns an affiliate commission for anyone approved through the links below. This compensation may impact how and where links appear on this site. We work to provide the best publicly available offers to our readers. We frequently update them, but this site does not include all available offers.
Las Vegas is the ultimate adult playground and one of my favorite places in the world. I've been there well over 100 times and have my routine and rituals when it comes to gambling and dining out. But what else can you do when you're not chasing Lady Luck or chowing down?
Here are five things you can't miss on your visit.
5. The Flamingo Wildlife Habitat
The Flamingo Hotel & Resort actually has live flamingos. After you walk through the casino, you'll see signs for the Wildlife Habitat. Step outside and into a little oasis on the Las Vegas Strip. Here you'll find waterfalls, pelicans, ducks, some small gardens, a fountain, turtles, Koi, and of course, Chilean Flamingos. The four-acre space is free and a great place to get away from the chaos that lives just outside.
Can't Miss: look for the stone flamingos in the fountain after you've visited the live birds.
Address: 3555 S Las Vegas Blvd, Las Vegas, NV 89109
4. Neon Boneyard
Ever wonder what happens to the neon signs when the lights go down and old casinos get imploded? If they're lucky, they end up on display at the Neon Boneyard. Since 1996, the Neon Museum has been preserving iconic Las Vegas neon signs. It opened to visitors in October 2012 inside the restored lobby of the La Concha Motel. There are more than 250 signs on display in the outdoor exhibition.
Can't Miss: the Neon Museum inside shows the changes in sign design and technology from the 1930s to the present.
Address: 770 Las Vegas Blvd N, Las Vegas, NV 89101
3. Fountains of Bellagio
This one wouldn't necessarily make my top five, but my husband's absolute favorite thing to do in Sin City is to watch the Fountains of Bellagio. We have spent hours watching these water cannons go off while choreographed to everything from Frank Sinatra to Whitney Houston. There are more than 1,000 individual fountains and they can spray water as high as 450 feet. The shows take place every 15 to 30 minutes starting at 3 pm on weekdays and noon on weekends. The photo above was taken from our room at the Bellagio.
Can't Miss: get a table at Lago by Julian Serrano on its patio for the absolute best views without the crowds. As you dine (the restaurant is great by the way), you'll be treated to the fountain show.
Address: 3600 S Las Vegas Blvd, Las Vegas, NV 89109
2. AREA15
One part immersive art installation and one part dining and entertainment space, AREA15 is completely weird in the best possible way. You wouldn't think a Todd English restaurant called The Beast, a flight simulator, axe throwing, and VR experiences wouldn't necessarily work well together, but they do. It might seem to make more sense if you're a bit intoxicated. Even sober, you'll have fun wandering this massive space and taking in its many sights and sounds.
Can't Miss: you'll feel like you're in Stranger Things or that aliens have in fact take over when you head into Meow Wolf's Omega Mart. It first feels familiar, like you are in a supermarket, but the closer you look the weirder things become.
Address: 3215 S Rancho Dr, Las Vegas, NV 89102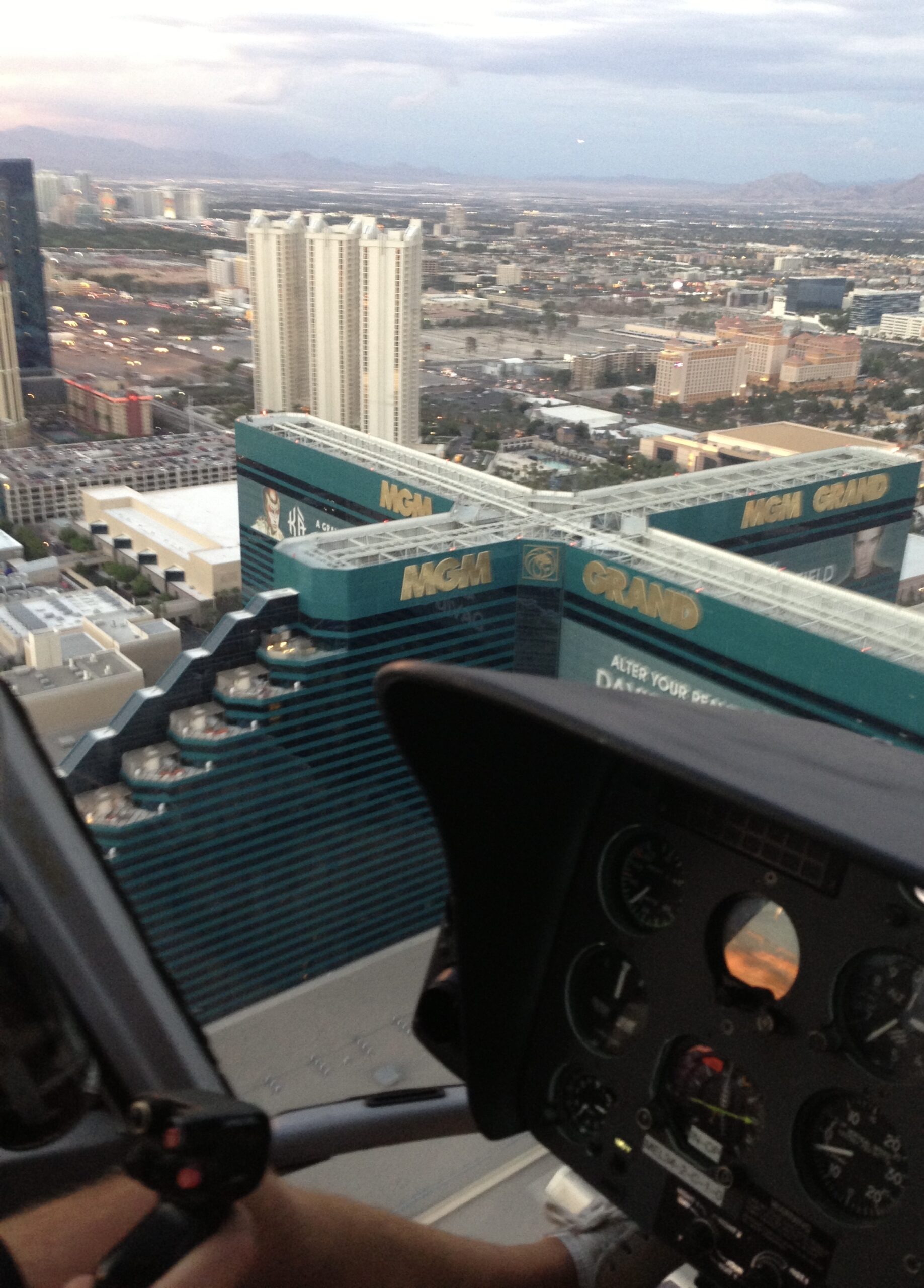 1. Strip Helicopter Tours
We did this in 2013, but it's still one of my favorite Las Vegas experiences (this picture was taken then and between the much earlier iPhone and vibrations from the chopper, it's not the best but you get the idea). Head over to Papillon Grand Canyon Helicopters and get ready to see Las Vegas from above. We did a private tour, but they offer group ones at a cheaper rate. The flight only lasts 10-15 minutes but it's well worth it to be able to soar over all of the Strip's iconic sights.
Can't Miss: the entire ride is filled with the best views of Las Vegas and all the action of Las Vegas Boulevard.
Address: 5060 Koval Ln, Las Vegas, NV 89119
Come for the dining, gambling, and shows. Stay for the quirky attractions that make this city so much more. These are my can't miss picks for Las Vegas.
Bonus Hotel Pick: The Bellagio Resort & Casino is by far my favorite in Las Vegas. I have stayed here more than any other property. I love the refined elegance of the hotel, its spa, shopping, and wide selection of restaurants. Plus, I've had some good nights playing BlackJack in the casino. The rooms are spacious and well appointed. Its location (center Strip) is perfect to get you everywhere you want to go.
Address: 3600 S Las Vegas Blvd, Las Vegas, NV 89109
A full hotel review can be found here.
User Generated Content Disclosure: The Bulkhead Seat encourages constructive discussions, comments, and questions. Responses are not provided by or commissioned by any bank advertisers. These responses have not been reviewed, approved, or endorsed by the bank advertiser. It is not the responsibility of the bank advertiser to respond to comments.