Advertiser Disclosure: The Bulkhead Seat earns an affiliate commission for anyone approved through the links below. This compensation may impact how and where links appear on this site. We work to provide the best publicly available offers to our readers. We frequently update them, but this site does not include all available offers.
Matthew over at Live and Let's Fly posted about the sad state of Polaris catering this morning. The article got me thinking about how many bad meals I have been subjected to when flying in United's premium international Polaris cabin. United is profitable, but clearly does not care about the passenger experience and soft product in its front cabin. I'm not expecting a caviar service and apps like I had in Lufthansa first class (pictured below), but United can't get much worse.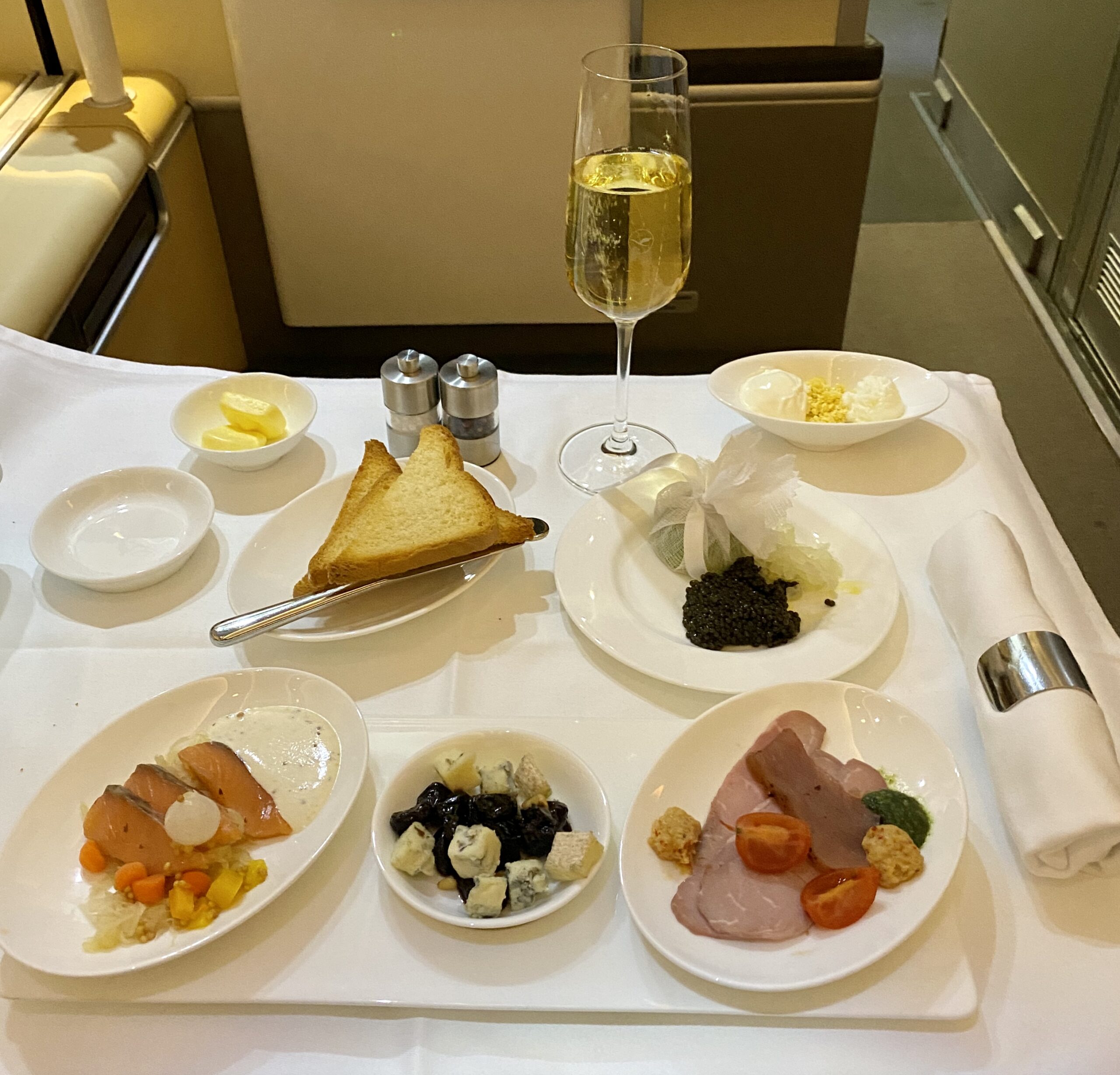 I've said it before and I stand by it, you can get a better meal in a hospital cafeteria, homeless shelter, or prison that what is served on a United flight. Don't get me wrong, complaining about premium cabin food is a First World problem, but when you're paying thousands of dollars for a flight you should get something that's at the very least edible. I refrained from eating on many flights because what was on offer was just so bad. Here are some of the things that United served me in 2022:
This pre-arrival snack is perfect for a first grader with a cheap pizza, a child-sized portion of fruit, and a shrink-wrapped muffin.
I couldn't bring myself to order anything off of this menu. UA should not be serving pickled dragon fruit and quinoa or these other dishes. It's trying to be fancy, but they're poorly executed, odd, and made with the cheapest ingredients.
This looks good right? You'd think, but it tasted awful. The fish smelled funky, the bagel was partially frozen, and it was just an all around bad meal. Expert tip: sleep through breakfast.
Some United flights cut costs by giving passengers photocopied menus. You'd think it best not to let passengers see what's about to be inflicted on them. Duo of Celery Root anyone?
Look at this breakfast. The plating and carb overload really set the tone for the day. I'm not sure what you'd put salt and pepper on here.
Another meal I opted out of on a flight this past fall.
I did try the Egg custard tart. I sawed through it, took a bite, and spit it in my napkin. I love pasteis de nata and dan tat. This was neither of those things. It was somehow rock hard and the custard tasted dry.
At least there are snack baskets. Well, it's better than nothing. The selection has been cut down and the quality has also dropped. It's like mom went to Costco and bought a few things to fill the basket. Delta does this 100x better.
Compare all of the above to this meal served in a prison. I guess United passengers get linens, but this doesn't look bad when compared. (Image credit: The Marshall Project.)
Anthony's Take: United is promising to improve its catering this spring. We'll see if that happens. The food quality is terrible and adding back things taken away during the pandemic like the sundae cart is not going to fix its inedible meals. My advice, eat before boarding or bring your own food.
User Generated Content Disclosure: The Bulkhead Seat encourages constructive discussions, comments, and questions. Responses are not provided by or commissioned by any bank advertisers. These responses have not been reviewed, approved, or endorsed by the bank advertiser. It is not the responsibility of the bank advertiser to respond to comments.