Advertiser Disclosure: The Bulkhead Seat earns an affiliate commission for anyone approved through the links below. This compensation may impact how and where links appear on this site. We work to provide the best publicly available offers to our readers. We frequently update them, but this site does not include all available offers.
American Express was the first credit card issuer to open a US lounge back in 2013. The concept was novel at the time, but both Capital One and Chase have their own lounges in the works. (Capital One currently has one in Dallas/Fort Worth and Chase has yet to open any. There are plans for both to expand in 2023.)
It's hard to believe that the first Centurion Lounge opened in Las Vegas only eight years ago. It feels like I have been going to them forever. Other than LaGuardia, I have spent more time in this location than in any other that American Express operates. There is something comforting in the consistency of the menu and knowing the Wi-Fi password without having to look. The only issue: the lounge was way too crowded. Thankfully, it was expanded by 50% last year. Its footprint increased from 9,000 square feet to 13,400. That's not to say there aren't still lines at time, but it's much more manageable.
Access
Access to the Centurion Lounge is given to customers carrying The Platinum Card®, The Business Platinum Card®, The Centurion® Card, the Delta SkyMiles® Reserve Card, or the Delta SkyMiles® Reserve Business Card.
Currently, cardholders are entitled to bring two guests (or immediate family with a Centurion® Card). This changes in February 2023 (Centurion® Card access remains the same) with restrictions to access being implemented for customers who do not spend over $75,000 a year on their card. If that threshold is not hit then only the cardholder can enter for free with a fee of $50 per guest ($30 for children ages 2-17) per visit. This has been done in a further effort to curb overcrowding.
Anthony's Take: The Centurion Lounges have been some of my favorites since they opened. American Express continues to offer a great experience with restaurant-quality food and cocktails, comfortable spaces to work and relax, and other amenities that vary by location. Las Vegas was the first and is my favorite in the system (tied with SFO). I will always stop in if I'm traveling.
The plant wall by the entrance of the lounge is a signature design element across all locations.
Bar
When entering the main dining room, you'll find the bar to the left of the buffet. Unlike most airline lounges, all alcohol here is complimentary. This includes premium spirits and wines. American Express even has cocktail menus that vary by location.
Food
You won't go hungry in a Centurion Lounge. The menus rarely change, but the food is consistently satisfying. There are fresh ingredients to make a salad as well as several hot dishes, usually a soup, and a few desserts.
Make your own salad if you're looking for something healthy.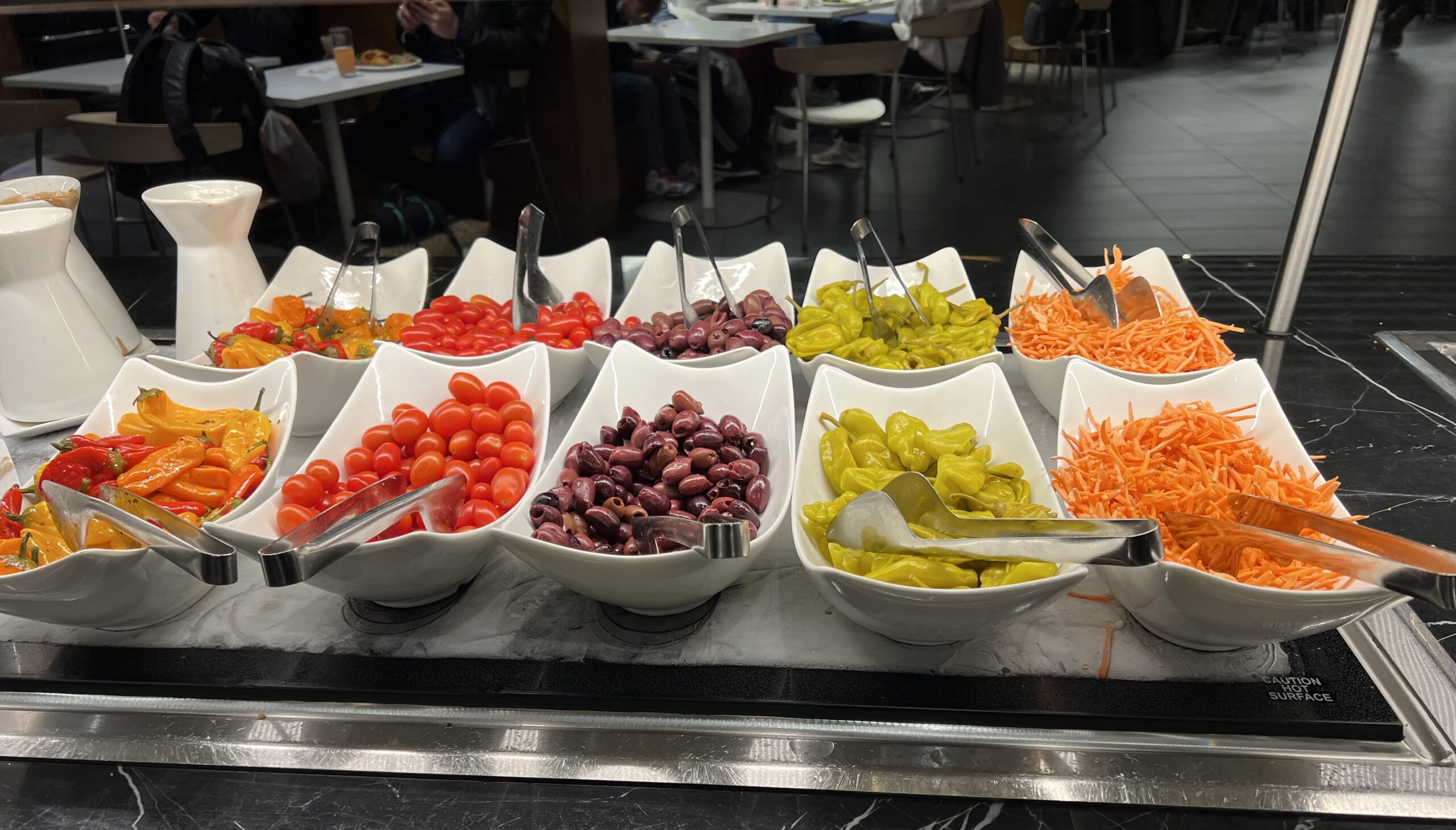 More veggies for salads.
Several hot dishes.
Bread pudding and oatmeal raisin cookies.
Espresso machine (one of two; the other was out of service).
Condiments for coffee and tea.
Cold brew, iced teas, and syrups to add to seltzer water (there is a dispenser built into the counter).
Seating
There are all sorts of seating configurations for working, socializing, and lounging. While I visited I was surprised to see so many open seats.
Some areas of the lounge are reserved exclusively for those carrying the Centurion® Card. More seats than I remember were blocked during my visit. My guess is that when the lounge was overcrowded that American Express' most premium customers complained.
Amenities
I was surprised to see the family room that used to be there to contain children (i.e. a playroom) had been converted into more reserved seating with all of the toys removed.
There is a single shower. In all the times I have visited, I never noticed until my last trip yesterday.
Toiletries are L'Occitane brand, which are the standard across all bathrooms in the system. In addition to the single shower suite there are several bathrooms.
Other amenities include Wi-Fi, a phone booth, a conference room (that can be reserved), and several restrooms.
Overall Impression:
I have spent countless hours in the Las Vegas Centurion Lounge and always look forward to my visits. Its a great place to eat, drink, relax, work, and wait for your flight. I'm happy that American Express is addressing overcrowding by expanding existing locations and restricting access.
User Generated Content Disclosure: The Bulkhead Seat encourages constructive discussions, comments, and questions. Responses are not provided by or commissioned by any bank advertisers. These responses have not been reviewed, approved, or endorsed by the bank advertiser. It is not the responsibility of the bank advertiser to respond to comments.