Advertiser Disclosure: The Bulkhead Seat earns an affiliate commission for anyone approved through the links below. This compensation may impact how and where links appear on this site. We work to provide the best publicly available offers to our readers. We frequently update them, but this site does not include all available offers.
Terms apply to American Express benefits and offers. Enrollment may be required for select American Express benefits and offers. Visit americanexpress.com to learn more.
I had visited Resorts World multiple times since it opened in summer 2021. The resort features a mall, casino, theater, tons of restaurants and bars, a spa, and seven pools for three hotels: Las Vegas Hilton at Resorts World, Conrad Las Vegas at Resorts World, and Crockfords Las Vegas, LXR Hotels & Resorts. Until 2007, the property had been the Stardust Resort and Casino. The current complex cost $4.3 billion and is a gorgeous space to visit or stay.
I had wanted to check out Crockfords since I had read about it. A weekend getaway to Las Vegas provided the perfect opportunity. I had not used the up to $200 Fine Hotels & Resorts credit provided to holders of The Platinum Card® from American Express this year and found it provided great value at this resort.
Anthony's Take: The hotel is conveniently located at the north end of the Strip near The Wynn and The Venetian. It provides everything you could need for a great weekend getaway including tons of restaurants and a hawker-center-style food court, a casino, and well-appointed rooms and suites. Booking through Fine Hotels & Resorts provided a great value and guaranteed us a late checkout, which we took advantage of while waiting for our room at the Bellagio. We loved our suite and look forward to staying here again. Hopefully, we'll be able to check out the spa and be here during warmer weather to use the pool.
Booking
As noted above, I booked a City View Suite through American Express' Fine Hotels & Resorts. This included all of the benefits above. I found the $125 food and beverage credit useful for our dinner at FUHU, stopped by the Lobby Bar for our complimentary sparkling wine, and had breakfast at The Kitchen (more on that below). It was great not having to worry about checkout and we stayed in the room until 4:00 PM (when our other room at the Bellagio was ready). All three hotels at Resorts World are under the Hilton umbrella. If you're booking a standard room with points, it will cost you 95,000. The suite I booked was going for 234,000 points the night I stayed. Cash rates for standard rooms range from $259 to over $600 depending on the dates. All rooms are subject to a $40 resort fee plus tax. This includes very little and is even worse when it's cold and you can't use the pool. Here is what you get: Internet access; PressReader app access to newspapers & magazines; smart TV casting; 10% off spa or fitness retail; 5% off spa or fitness treatments; 5% off cabana experience; 5% off 2 pool chair experience; local and toll-free calls. The resort fee needs to include more as it currently offers next to nothing.
Transportation to/from the Hotel
We took a taxi from Las Vegas' Harry Reid International Airport (LAS) to Crockfords. The approximately 4.4-mile trip tool around 15 minutes and cost $28 plus tax and tip. Las Vegas taxis are now metered by zone. I love this as many drivers used to scam passengers by taking them out of the way to run up the meter. We took an Uber Premier to the Bellagio and that also took about 15 minutes and cost $27.
Location
As mentioned the hotel is located on the north end of the strip. It's a bit quieter over here versus the other end near Mandalay Bay. You're a quick walk from lots of other casinos as well as a short ride to anything else you'll want to see.
Check-in
I arrived at the hotel around 5:30 PM. While I tried to do a mobile check-in, the app kept rejecting it and I ended up having to go to the desk. The line was minimal and within a few minutes I was assisted. Initially, I was assigned an accessible room (I always reject these) and requested another. The agent found one on the 63rd floor of the West Tower and handed me the letter explaining the Fine Hotels & Resorts Benefits. She also explained that the key with the red fob above would operate the elevator if I wanted to use it instead of my room key (and that it was a souvenir that I could take home). She escorted us to the elevators in the West Tower because they're down a semi-hidden hallway and not easy to find if you're not shown. There is a separate lobby for the West Tower, but you need to go through the Hilton to get there.
The lobby is quiet and understated. I loved the calming tones and luxe feel.
Fresh flowers filled the center of the lobby.
There are multiple jeweled animal statues in the lobby including this elephant.
This cat was near the entrance to Crockfords from the valet.
After going through this door, you walk down a long hallway.
The hallway has lots of doors for employees and takes you right to the West Tower lobby.
When going back to the main lobby in Crockfords, you need your guest room key to get into the hall.
The West Tower lobby is small yet elegant.
The Lobby Bar was fairly quiet throughout our stay.
We returned to the main lobby later that evening for our welcome drinks at The Lobby Bar. I was happy to see at checkout that they were removed from the folio.
The hallways are also sparkling clean and upscale.
There are seating areas on each floor in the hallway just past the elevators.
City View, One-Bedroom Suite (63-367)
There are 236 rooms and suites at the hotel.
The suite opens into the living room with a half bath to the right.
The living room had several chairs, a couch, a TV, and the minibar/refrigerator.
The mini bar had tons of snacks for sale as well as alcoholic and non-alcoholic beverages. There was a separate section open for you to store your own beverages. There were two free bottles of water and a Nespresso machine on top of the cabinet.
Lots of snacks for sale and the Nespresso machine.
The half bath was spacious with a sink and toilet.
The bedroom had a king-sized bed, a TV, a chaise lounge, and lots of outlets.
The chaise lounge was comfortable and provided a good place to look out at the view.
The view from the living room of the suite overlooked Circus Circus and The Stratosphere.
There was also a Theragun-like personal massager. This felt great on my sore back. I have a Theragun at home and thought this was a nice touch.
Off of the bedroom was a large bathroom with a glass shower, separate tub, and two vanities as well as a dressing area. The vanity on the right side is pictured above.
Left vanity (the door to the bedroom was in between the two vanities).
Standalone tub
Large, glassed-in shower
The toilet was housed in a separate room with a door.
Toiletries were Byredo brand and in large bottles. There were identical sets on both vanities.
I was surprised by how nice the Manicure Kit was and wrote about it here.
There were other toiletries including bath caviar and a bar of soap on the edge of the bathtub.
The closet had robes, an iron and ironing board, the safe, and lots of space.
Public Areas & Amenities
The hotel has a fitness center, Awana Spa, seven pools on a five-acre pool deck (the largest in Las Vegas), a casino, a theater, shopping, and lots of restaurants and bars. We did not have the chance to use the spa or fitness center and it was way too cold for the pool.
We dined at Fuhu Cha Chaan Teng. Everything was delicious and the food came to the table quickly. This is a great spot for a quick meal. The Peanut Butter French Toast, the Roasted Duck, and the Char Siu were the standouts. We wanted something fast because we were headed to Katy Perry right after. The $125 food and beverage credit provided with our booking covered the majority of our meal.
Fuhu Cha Chaan Teng can be found in the Famous Foods Street Eats area. This is no regular food court. It takes its inspiration from street markets found in Asia and there are many great vendors here. Touchscreens found throughout the area let you order food from multiple vendors without standing in several lines.
The Resorts World Theater can accommodate 4,703 guests. As mentioned above, Katy Perry currently has a residency called Play. We had great seats. The show is fun and a bit trippy (imagine Katy Perry being flushed down a giant toilet.
Allē Lounge on 66 is, as the name implies, located on the 66th floor. It offers sweeping views of the Strip and a dark clubby space to relax and have cocktails. There is also a Sky Casino should you wish to gamble while up there.
A DJ was spinning fun music while we were up there.
The bartenders did a great job of mixing up cocktails and the bar offers a wide selection of wine and premium spirits.
There is an outdoor patio that provides amazing views. We were happy it was open on this visit as the last time we came it was too windy and closed for safety reasons.
Breakfast
A credit of $33 per person for breakfast was included in my rate. It can be used in either The Kitchen or Sun's Out Bun's Out. The first choice is a sit-down restaurant while the other is fast casual.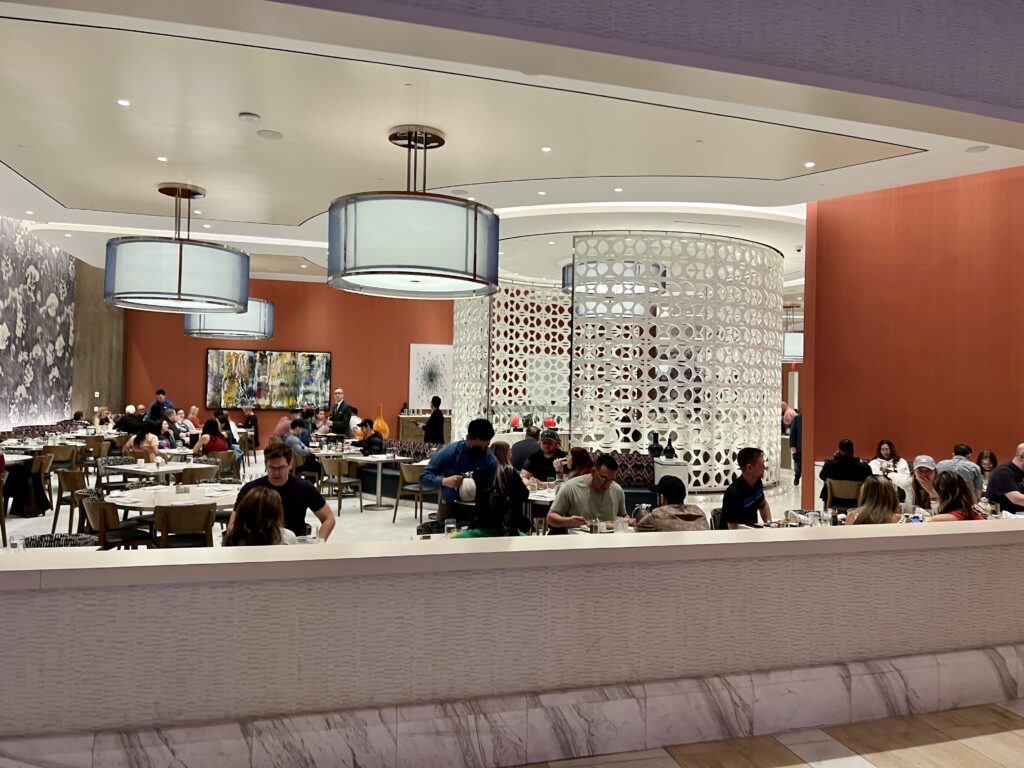 We opted for The Kitchen and decided to have the buffet.
The pricing for the buffet is a little suspect as I saw it online first at $36, then on the menu posted on its site for $39, and in the restaurant for $42.
The buffet is underwhelming and that is being incredibly kind. It's small with limited options and nothing was great.
It included eggs, bacon, oatmeal, fruit, salad, cookies, bread pudding, coffee cake, and a few other items. It's fine, but this is Las Vegas where everything is grand. They could have done a better job making this more robust. If we dine here again, we'll order a la carte.
Other Notes
I was pleasantly surprised that at checkout all of the credits were properly removed and I did not have to babysit the folio to ensure that everything was correct.
Overall Impression: Resorts World is a beautiful destination and offers something for everyone. I loved Crockfords' understated elegance, quiet lobby away from the casino floor, and the amenities provided with the Fine Hotels & Resorts credit were excellent. The dining choices here are right up my alley. We'll definitely be staying here again. It gave my favorite Las Vegas hotel, The Bellagio, a run for its money (that review can be found here. We stayed there the night after).
Anthony's Credit Card Pick: American Express offers its Fine Hotels & Resorts bookings to The Platinum Card® from American Express cardholders. It provides a $200 credit towards these bookings annually as well as a host of benefits for each stay including breakfast, early check-in (subject to availability), late checkout, and an on-property credit. The card has an annual fee of $695, but it provides many travel benefits and will always be my go-to for lounge access (both Delta Sky Clubs® and Centurion Lounges), booking airfare from the airlines to earn 5x points (up to $500,000 per calendar year), and taking advantage of all that the Fine Hotels & Resorts program offers. Learn more. Rates & Fees. Terms apply.
User Generated Content Disclosure: The Bulkhead Seat encourages constructive discussions, comments, and questions. Responses are not provided by or commissioned by any bank advertisers. These responses have not been reviewed, approved, or endorsed by the bank advertiser. It is not the responsibility of the bank advertiser to respond to comments.