Advertiser Disclosure: The Bulkhead Seat earns an affiliate commission for anyone approved through the links below. This compensation may impact how and where links appear on this site. We work to provide the best publicly available offers to our readers. We frequently update them, but this site does not include all available offers.
I've been fortunate to fly Lufthansa First Class from Frankfurt am Main Airport (FRA) multiple times. It's a consistently excellent experience that starts from the moment you arrive at the airport with a posh First Class Terminal and several First Class Lounges for guests. This leads to a car or van ride directly to the plane and then a luxe experience onboard filled with caviar, champagne, and more. On our return from our recent trip to Romania to spend Halloween at Dracula's Castle (more here), we had the opportunity to once again experience a blissful flight in the pointy end of a 747.
Anthony's Take: I last flew Lufthansa First Class in early 2020 right before the pandemic. I'm pleased to announce that it has maintained everything that always made it special. We had a kind, albeit slightly confused crew, and enjoyed the comfortable seating, delicious food, drinks, and overall experience. Tickets are pricey when paying cash and even take quite a few miles to book, but I always land with a smile on my face and start dreaming about when I can fly Lufthansa again.
Booking
This flight was booked as a one-way award ticket using United MileagePlus miles. I had booked us on this flight in Business Class for 88,000 miles per person. I then checked obsessively to see if any seats would open up in First Class. There were five seats open three days before the flight, so I felt good that I had a chance. Later that day, October 29th, I noticed that all five seats had opened up for award bookings. I quickly made the change on United.com. We were reticketed at a cost of 121,000 miles each. This included our flight on Austrian Airlines from Vienna International Airport (VIE) in Business Class and this flight home to Chicago. 242,000 miles for two people is a lot, but I felt we were getting a good value considering that the tickets were selling for around $9,000 each when I made the switch.
Frankfurt am Main Airport (FRA)
Frankfurt am Main Airport (FRA) is Lufthansa's largest hub and is the dominant carrier at the airport. What is impressive when you're flying First Class is that Lufthansa has its own dedicated First Class Terminal, complete with a dedicated security checkpoint, passport control, and tons of amenities.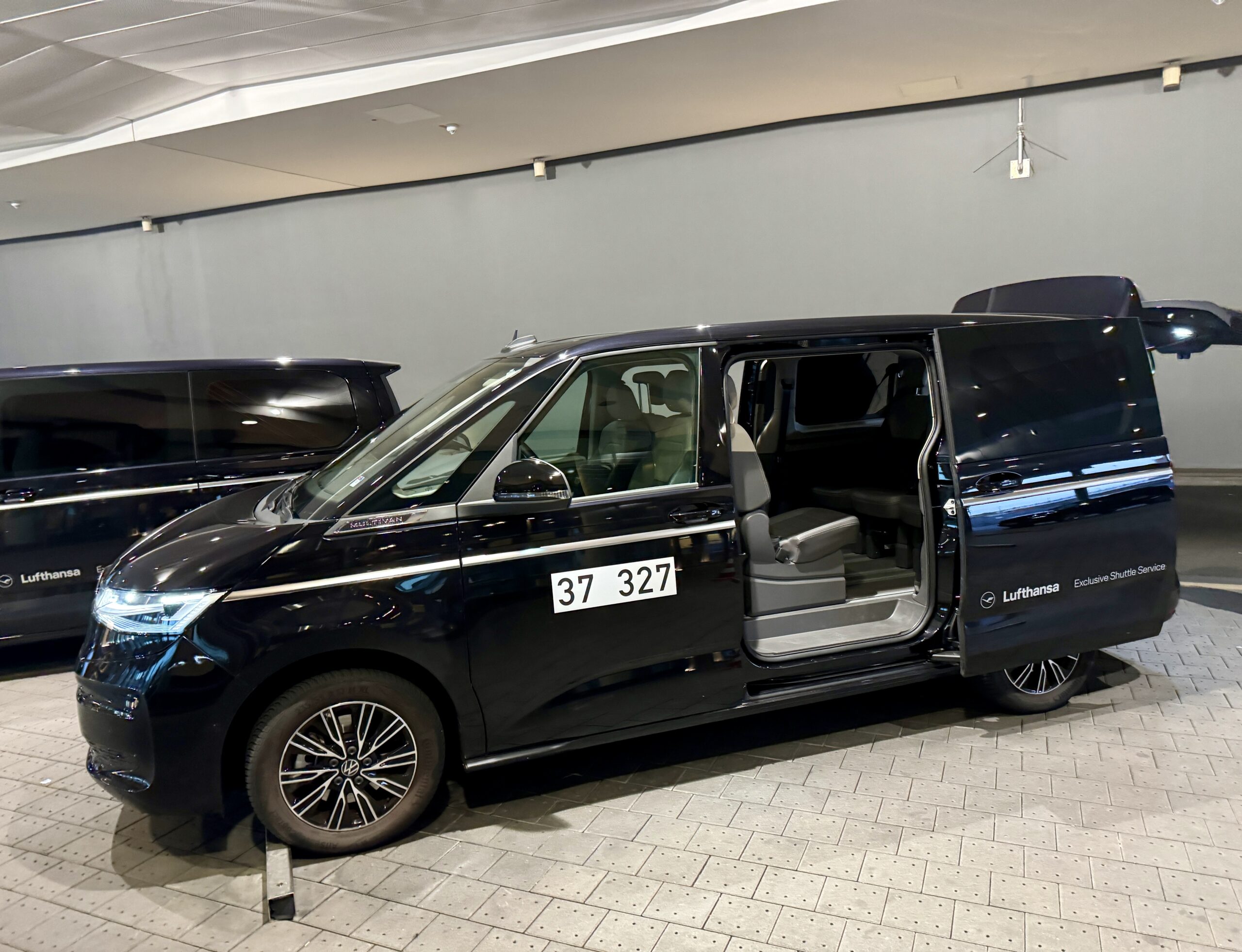 Boarding
One of my favorite parts of flying Lufthansa First Class is being taken to the plane in a car or van. There were two other passengers in the terminal headed for Chicago. We were asked to take the elevator downstairs about 45 minutes before departure and our passports were stamped at the private immigration desk before we boarded a van and were driven to the aircraft. Once at the plane, we boarded and elevator and went directly to a jet bridge that put us at the door nearest First Class on the lower level in the nose of the aircraft.
On-Board
We selected seats 1K and 2K as the rest of the cabin was booked and I love the seats in row one. Both have great views for takeoff and landing and I like being in the very front of the nose.
The seats are huge and when fully reclined provided more than enough space for my six-foot-five-inch frame (the seats are 84-inches long). I also love the ottoman as an additional seat for visiting. My husband and I went to each other's seats multiple times to chat.
The cabin has a total of eight seats in First Class with rows one and two having two seats and row three having four seats (in a 1-1, 1-1, and 1-2-1 configuration). The flight was booked full, but seats 3A and 3K did not show. I took the photo above of seats 3D and 3G before they boarded.
The First Class cabin has a small bar in the center in front of seats 3D and 3G.
At the seat was a pillow, amenity kit, slippers, headphones, and menus. A flight attendant brought over Porsche Design-branded pajamas.
The amenity kit included a cute blindfold, brush, shoehorn, socks, toothbrush and toothpaste, lotion, and ear plugs. The bag was Porsche Design.
Each seat has a single rose. An elegant touch!
Seat Features
The seats on this Boeing 747-8 are huge and extremely comfortable. They're very open and you won't find doors like on other carriers premium seats. The seat had multiple controls for different positions, several lights, the entertainment system, and more.
Each seat features a 17-inch personal entertainment screen with roughly 170 movies and over 30 TV shows.
Each seat comes with a locker near the galley for rollaboard bags and I was able to store my laptop, shoes, and all of the goodies above in the ottoman.
Controls on the left side operate the seat positions.
The remote on the right side controlled the entertainment system, lights, and flight attendant call button.  Bose QuietComfort 35 noise-cancelling headphones are attached to the aircraft so that there is no possibility of theft.
There are two other storage compartments on the right side.
A single button on the armrest will return the seat to its upright position.
Two USB-A ports and a standard outlet are found in the left armrest.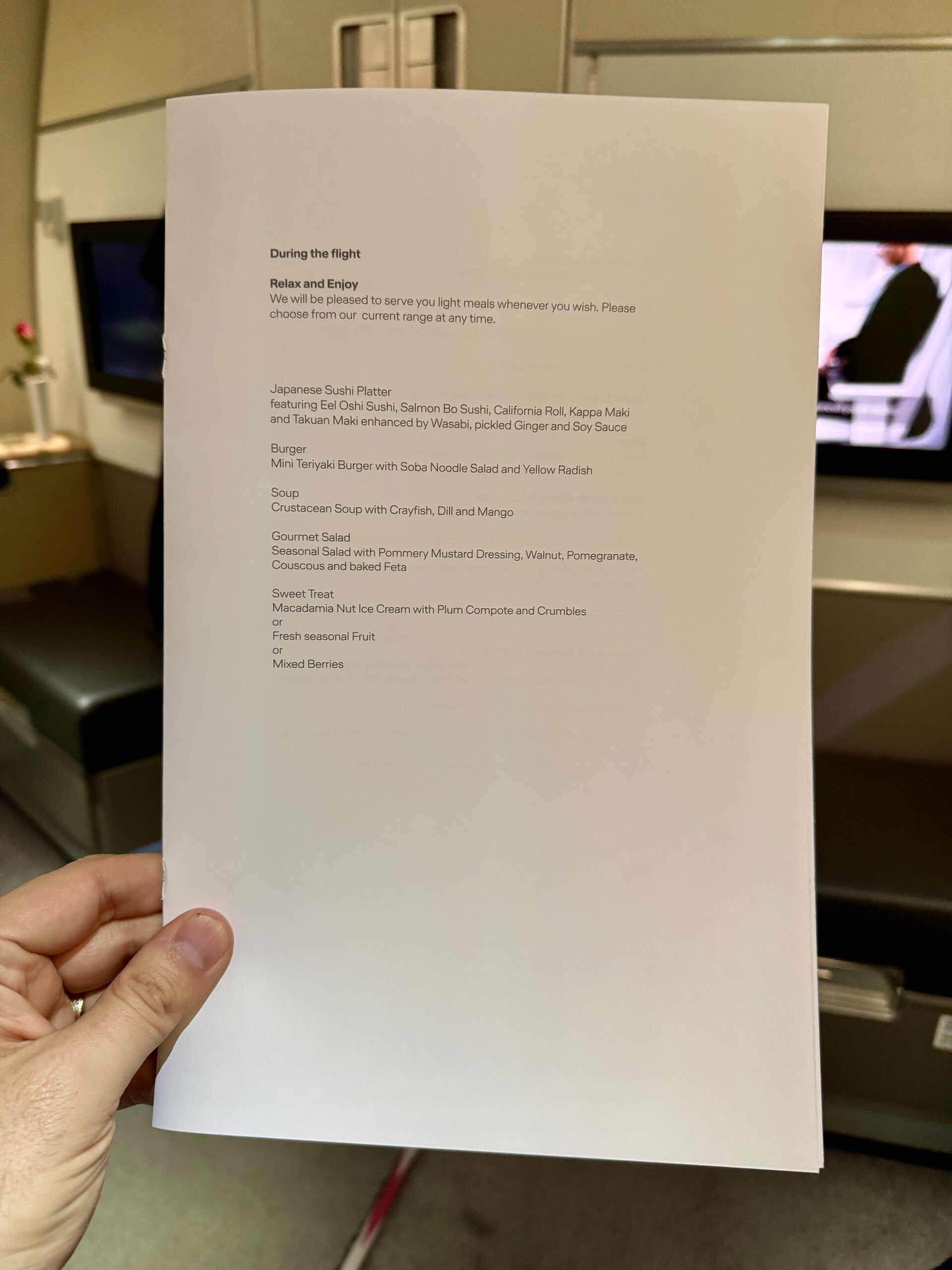 Food
Menus were brought shortly after we boarded. There was one filled with dining options and a rather extensive beverage menu.
A warm, moist towel was distributed shortly after boarding.
Then macadamia nuts and a choice of beverage were provided. I chose a glass of Champagne Laurent-Perrier.
An amuse bouche of pumpkin mousse came next. It was odd and I did not eat more than a bite.
One of my favorite parts of Lufthansa First Class is the caviar service. I wish Lufthansa provided the proper spoon, but the serving is plentiful and seconds were offered (I declined).
A bread basket was brought around next. I selected garlic bread and a white roll.
Next, came the appetizers. You can choose one or all four. I took them all to photograph, but only picked at them. These include:
Mixed Salad with Celery, Walnuts, Feta, and Caesar Dressing
Pigeon with Truffle, Pear, and Black Salsify
Goat Cheese with Red Cabbage and Fig
Lobster Confit with Quinoa, Mango Ceviche, and Tarragon
Entrees came next. I chose the Ternderloin of Veal with Truffle Sauce, Pea and Potato. The dish was delicious. Peas are my favorite vegetable and there were lots here.
A soup course was supposed to proceed the entree. My husband wanted it, so I took a photo of his soup. He enjoyed the Roasted Cauliflower Soup with Pomegranate and Croutons.
Finally, it was time for dessert. I chose the Valrhona Chocolate Tartlet with Salted Caramel, Apricot, and Walnuts. I would have licked the plate if I could. Not very First Class behavior, though.
About four hours later, I was somehow hungry. Lufthansa First Class has a list of dine-on-demand dishes. For my snack. I chose the Japanese Sushi Platter. It was cold and tasted fresh. Other choices included: Mini Teriyaki Burgers, Crustacean Soup with Crayfish, Dill and Mango, a Gourmet Salad, Fresh Seasonal Fruit, or Mixed Berries.
I requested one of the other desserts from the lunch service and was brought the Chocolate Delice with Cherry and Caramel. It was good, but not mindblowing like the other dessert above.
Wi-Fi
First Class passengers are supposed to receive complimentary Wi-Fi. The purser apologized, but the vouchers were not loaded. I decided to purchase it for the flight so that I could work. The Wi-Fi cost €29 for the flight and was speedy. It stayed connected the entire time. It's pricier than other carriers, but I was happy to have it for the entirety of this transatlantic flight.
Lavatory
First Class has two dedicated lavatories. These are spacious and I love that there is a bench that covers the toilet. It comes in handy when changing into pajamas.
I love the number of toiletries like mouthwash and Evian spray on offer.
The Boeing 747-8 lacks the urinals found in First Class on the Airbus A380, but the space is roomy. One of the cool features is the window in the lavatory.
There is even a red rose in the lavatory.
Service
The flight attendants were warm and well intentioned, but there was some confusion with multiple flight attendants asking us for entree choices and if we wanted drinks. These were then forgotten and asked again. I'm chalking it up to the flight being on the first of the month and them learning a new menu. The experience overall was still solid and what's not to love about being in Lufthansa First Class?
Overall Impression:
We departed and arrived on time. Flying Lufthansa First Class is arguably the most comfortable way to cross the Atlantic. I look forward to the next time I can savor this experience. Maybe even in Lufthansa's new First Class seats once those are installed.
User Generated Content Disclosure: The Bulkhead Seat encourages constructive discussions, comments, and questions. Responses are not provided by or commissioned by any bank advertisers. These responses have not been reviewed, approved, or endorsed by the bank advertiser. It is not the responsibility of the bank advertiser to respond to comments.